Solar power supply with energy storage
 Our solar power supplies with energy storage are the lightest, most aesthetic and easiest to use in the world, their new generation lithium battery gives them a very high capacity and an unequalled lifetime; equipped with multi-use alternating current and direct current outputs, they are able to supply all your electrical and electronic equipment, satisfy all your needs, in your home, as well as outside when you travel in the wild.
They combine the most advanced energy storage technology with a high frequency inverter that will take care of your most sensitive electronic equipment. These products are not only useful and practical, but also set an example in terms of environmental protection, performance and energy savings. 
Legend (front side) :
1: LED lighting
2: LED switch
3: Battery level display (0~100%)
4: Ventilation grid
5: 4 DC 12V outputs
6: AC output led status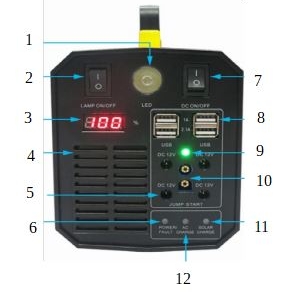 7: DC output switch
8: 4 USB outputs
9: DC status led
10: Auto DC output port
11: Status LED of the DC output
12: AC charging indicator (red: charging / green: charged)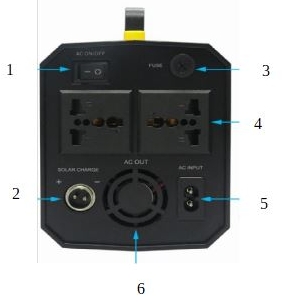 Legend (rear side) : 
1: Switch (AC output)
2: Solar car charging socket
3: Alternating current fuse
4: AC power socket
5: Power supply charging port (alternating current)
6: Ventilation grid
POSITIVE ENERGY CONSTRUCTIONS IN TROPICAL AND EQUATORIAL ZONE - DEVELOPMENT OF GREEN, INTELLIGENT AND CONNECTED SMART CITIES
- VILLAGE ELECTRIFICATION & NOMADS SOLAR SOLUTIONS
Evolutive low-rise villa: from 4 to 6 rooms
Often the house is the choice of a lifetime, it must be comfortable, safe, healthy, practical, aesthetic and of course economical, you have a project: register and we will send you our file:
"Making your construction project a success"  
Villa DUPLEX: 4 or 5 rooms and more…
Innovative and climate-friendly construction techniques, the result of years of research by AmySOLAR, give our homes an unparalleled level of comfort and well-being. A perfectly insulating frame (keeps the interior cool) and allows our ingenious hybrid solar air conditioning and ventilation system to operate all year round without burdening your electricity budget (thanks to the energy provided by the sun). Our houses are evolving: the family is growing, your needs are changing, just add a module: bedroom + bathroom, playground, garage, etc….
APARTMENTS :
Your future apartment in a "positive energy" ecological residence with all modern comforts.
The city of the future combines the impossible ideal of a comfortable villa with a neat interior and a
breathtaking view: a world apart between heaven and earth.
Thanks to our banking partners, we can fully finance your project, while preserving your budget:
3/4-room apartments: from 125,000 CFA francs per month*
Our 4 room low Villas: from 250 000 F.CFA per month*
Our DUPLEX: from 450,000 CFA francs per month*
Our secure luxury residences
* Example of monthly payment to be repaid for a 15-year loan with a 10% contribution.
Datasheet Green District Development, Village Electrification and Solar Solutions Nomadic 
INVESTORS :
You have financial resources and wish to create a rental stock for yourself
(houses or buildings): we build and manage
of your real estate assets for you, all you have to do is collect the profits.
Lots from F.CFA 300 million, or by subscription of shares
BUILDING OF INDIVIDUAL HOUSES FOR THE TEMPERATED AREA: TIMBER-FRAMED AND SINGLE-WALLED HOUSES WITH INSULATING BLOCKS
Your Wood Frame House: a comfortable, ecological and economical home
Sustainable development :
Use of regional, environmentally friendly natural materials to transmit a cleaner planet to our children.
Economy and comfort :
Thanks to the production of renewable energies by the house, thermal and hygrometric regulations combined with excellent room acoustics, our positive energy houses are already ready for future regulatory developments (RT2020, "Passive house"…) and provide a very high level of living comfort, while preserving your savings.
Investment for the future :
A healthier home for your family's health and an exemplary longevity to pass on to future generations. Wood is 7 times more insulating than concrete, resistant and durable (even poorly maintained half-timbered houses are still there after several centuries).
Architectural freedom :
Proven technology, the wood-frame house with natural, recyclable and durable insulation offers total architectural freedom, with a very wide choice of finishes that can be customised to suit everyone's tastes, including accessibility for people with reduced mobility.
Financing, delivery and warranty :
Always attentive to our customers' needs, we offer you financing adapted to your needs and fast and reliable construction thanks to an automated manufacturing process, with ten-year guarantees and damage to works included.
 Scandinavian saying: "If the doctor can't help you, live in a wooden house ! »
Discover our suggestions to help you work together to build your future cosy nest: 
House Type F3: from 450 € per month* from 450
* Example of monthly payment to be repaid for a 15-year loan.
PRODUCTION AND DISTRIBUTION OF SOLAR ENERGY EQUIPMENT SOLAR PANELS - STRUCTURES - INTEGRATED SOLUTIONS
AmyPOWER is a complete solution, available in different power ranges, to equip houses as well as buildings or professional buildings and make them as autonomous as possible in terms of energy thanks to the sun's rays.
Each AmyPOWER kit is composed of solar panels and the necessary accessories for fixing them on the roof or on the ground, one or more energy storage modules and the essential electronics connected to the electrical panel.
We are looking for distributors and installers for the AmyPOWER range: EMEA and Asia.
Photovoltaic solar panels :
FINANCING AND CONSTRUCTION OF SOLAR POWER PLANTS
ENGINEERING: RESEARCH & DEVELOPMENT